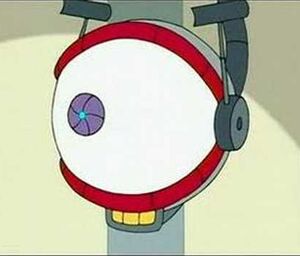 Station is
Intrepidville
's main computer system that works for
Nora Nebulon
and is usually handing out sage advice to
Lloyd Nebulon
Background
Edit
Not much is known about Stations past, although it can be assumed he was built and finished at the same time Intrepidville station first opened up thousands of years ago.
Personality
Edit
Station is a well-mannered computer who's duty is to update the stations inhabitants on what is going on. He is usually the one who tells Lloyd what to do without being harsh in anyway and will often try his best to keep Lloyd out of trouble. Despite his wise personna, he is not above lying about himself over a galactic dating site to get the attention of a girl he cares for deeply. He has an evil twin brother that is voiced by John DiMaggio who voices another rude and self-centered robot
Ad blocker interference detected!
Wikia is a free-to-use site that makes money from advertising. We have a modified experience for viewers using ad blockers

Wikia is not accessible if you've made further modifications. Remove the custom ad blocker rule(s) and the page will load as expected.